About SpendaYearwithJesus
Thank you for spending time with us. We look forward to delivering historical and engaging text-message stories for many years to come.
Check your texting plan with your cell phone provider. You will receive up to 150 more text messages per month when you subscribe.
So why a text-message story? Days and even months pass quickly in the accounts of Jesus' life. The stories are related to the author's themes. Jesus' time skips from-story-to-story, and we the readers are left to fill in the gaps. But we don't live in Jesus' first-century day-by-day. Far from it, in fact. So how do we get back to the rhythm of Jesus' daily experience in order to fill in space and time on his terms? Answer: We make time part of telling the story.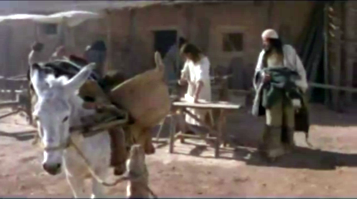 SpendaYearwithJesus Mission
Connect people with Jesus' experience to enhance their relationship with Him, and in doing so affirm and strengthen experiences which build healthy relationships among all people of the world.
SpendaYearwithJesus is our attempt to enter the day-by-day rhythm of Jesus' experience. We tell the story of Jesus' last year using real-time text-messages to link his present with ours.
Subscribers receive
2-6 text messages each day describing his Jesus' first-century Jewish experience
a weekly email that offers an overview of the story for the next 7 days
access to the Web site and a day-by-day overview of the entire year
A Little History
We started small, really small. . . pen and paper more than ten years ago. Then came some blue sky sessions thinking about technology as a vehicle for history. For a few years, I pieced together Jesus' story focusing on his daily needs and his first-century environment. During the first three years, we did two separate weeks of initial testing, and then a 9-month beta test where we invited a small group of family and friends to subscribe to the text messages and offer critique.
In 2010, we incorporated and then successfully applied for 501(c)(3) status. Over the past several years with only word-of-mouth advertising, hundreds of people have subscribed! So far, the investment has been worth every minute and dollar. After all, we're inviting you to spend a year with Jesus.
SpendaYearwithJesus is a 501(c)(3) non-profit organization supported by your donations. It is the brain-child of Daniel J. Pfeifer. The text message experience combines my three passions--history, theology, and technology. Thank you to all the people over the past decade who joined the conversation shaping SpendaYearwithJesus into what it is today.
This agreement begins a partnership of shared experience between you (the person signing-up) and SPENDAYEARWITHJESUS, a 501(c)(3) non-profit organization.
Our passion is to use online channels to create a time-based experience of history. We deliver a daily chronicle of Jesus' experience using text-messages, email, and a Web site. To participate in the SpendaYearwithJesus experience, you provide us with your cell phone number and provider. We invite you to support us with a donation and give us feedback about our service.
General: The completion of your subscription to this site establishes our agreement. If the legal system tells us we have to change the wording of this agreement, then at this point, we reserve the right to do so.
Ownership: The site content including the two to five text messages we send you each day is Copyright © SPENDAYEARWITHJESUS. Some of the icons we use are Copyright © Yusuke Kamiyamane. All rights reserved. Licensed under a Creative Commons Attribution 3.0 license. Some of the photos are also used under Creative Commons Attribution licenses.
Warranty: The SendaYearwithJesus experience includes daily delivery of the text message story beginning 348 days prior to the Easter and ending on Easter Sunday. In addition, the experience includes a story summary list delivered in a weekly email as well as access to the Web site where you can see additional information provided by the blog and the Story-Nav.
We work to manage communication with cell phone and email providers to minimize disruptions to the story experience. Because of the changing nature of spam and the accompanying filters, disruptions are bound to occur. We will work as quickly as possible to communicate with providers and resolve these disruptions.
Liability: We seek to generate messages and services responsibly. The communication channels provide you with the experience, not marketing. Please use the messages and services responsibly. Enjoy the experience, and invite friends who you think might be interested rather than forwarding multiple texts or emails to them.
At any time, you may unsubscribe either by clicking the unsubscribe link in your email, in your profile on the Web site, or by replying to a text message with the word STOP.
Please verify that your cell phone plan can receive an additional 150 MMS messages each month. SPENDAYEARWITHJESUS is not responsible for increases in your cell phone text-message charges.
Subscription: Your subscription to SPENDAYEARWITHJESUS is for one person (you) to receive text messages and use this site for the period defined when you create or renew your account—either for the trial period or up to Easter.
Cancellation: We hate to see you go, but we know that the text message experience is not for everyone. Reply to a text message with STOP or click the Unsubscribe link in the weekly email or on the Web site to stop the messages. You may still use your account to view the Story-Nav on the Web site.
We are committed to respecting your privacy. That said, we're committed to respecting our own privacy, too. So out of mutual self-interest, we have put some controls in place so that your privacy is not invaded.
Your Account Information: When you create an account, we collect enough information in order to give you the SPENDAYEARWITHJESUS experience (including your name, email, password, phone, and time zone) and to identify the extent of the SPENDAYEARWITHJESUS community (including your city and state). We will not sell or share your account information.
Your Usage Information: We evaluate patterns in the usage data in the aggregate for ways we can make the site more efficient and effective. We do not examine individual information.